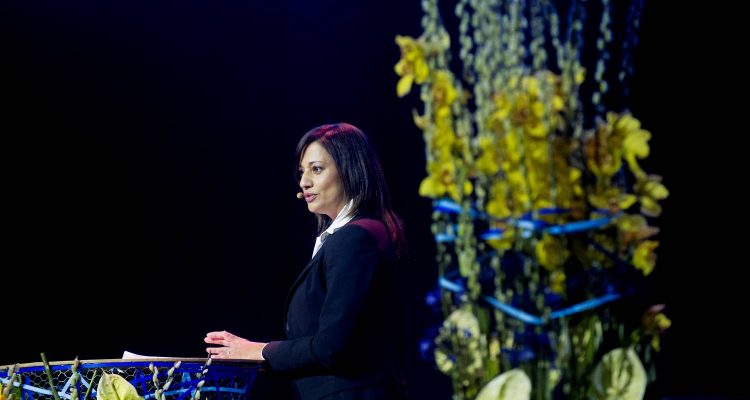 Nashater Solheim
Psykolog, gründer og daglig leder | Rogaland
Pris / 45 min
Kr 15 000,-
Pris / hel dag
Kr 25 000,-
Beskrivelse
Nashater Solheim har nærmere 25 års ledererfaring, både fra Norge og internasjonalt. Hun har blant annet jobbet med offentlig sektor, NGOer, og ulike bedrifte innen helse og olje- og gassvirksomhet. Nashater har vært direktør i forskjellige selskaper innen strategi, organisasjons- og kompetanseutvikling, i tillegg har hun også vært coach for toppledere. Nashater har doktorgrad i psykologi fra University of Surrey, UK og er videreutdannet i forhandlingsteknikk og innflytelse fra Harvard Law School. Nashater snakker om kraften i å bruke psykologi i virksomheter for å få positivt gjennomslag, og får å oppnå den innflytelsen du trenger for å motivere dine medarbeidere, og til å forhandle med ledere, interessenter og konkurrenter. Nøkkelen ligger i grundige forberedelser, riktige spørsmål, et bevisst kroppsspråk, samt en taktisk håndtering av møtet og rommet. Ettersom verden stadig blir mer forbundet og integrert på tvers av virksomheter, er krysskulturell kommunikasjon og innflytelse en avgjørende ferdighet for enhver leder og profesjonell. Nashater bygger på sin integrerte erfaring som klinisk og kriminell psykolog, bedriftsleder og strateg for å vise deg ikke bare hva dyktig innflytelse og forhandling innebærer, men også hvordan du kan få gjennomslag for det du ønsker – både som leder, ansatt eller i hverdagens forhandlingssituasjoner. Nashater snakker engelsk, men både diskusjoner og spørsmålet under hennes foredrag kan tas på norsk.
Foredrag
Persuasion Influence & Negotiation (PIN) in Business – do better than win-win!
The essence of any role in business - regardless of mandate, seniority or industry, -is the ability to positively motivate others to deliver well and continuously negotiate with teams, managers, stakeholders or adversaries to make real progress. As the world becomes ever more connected and integrated in business, cross cultural communication, negotiation and influence are a critical skill for any leader or professional. Learn more about the psychology of PIN and how to succeed.
The Language of Leadership
Why do so many Leadership programs with great intentions and long days have little or no lasting impact? It's a case of getting back to the office and the learning fades away as the mails fade in! What are these programs missing? It's in the "how" of leadership. There is a language to effective leadership and as a psychologist and leader myself I can give you the insights into what this actually is and how you can have real and lasting positive influence every time.
Survival guide to Psychopaths and Narcissists in the workplace
As a forensic and business psychologist, I have worked intimately with these personalities both in the community and in the workplace. This presentation shares my academic expertise and real life experiences in how to manage and survive the impact these can have on you personally and professionally.
Handling conflict and disputes
Disagreements, conflict, disputes can all have a devastating impact on relationships, collaboration, productivity and at worst the success of your business. The most effective ways of managing conflict and mediating disputes are based in psychological methods. So whether you are directly involved, leading a challenging team or asked to mediate as an objective facilitator, this presentation gives you an insight into the tool box of successful mediators.
Moderator and conference facilitator
Nashater has moderated a number of high profile, corporate and international technical conferences including panel discussions with Politicians and Executive leaders across industries. References on request.
Nashater Solheim har 5 vurderinger